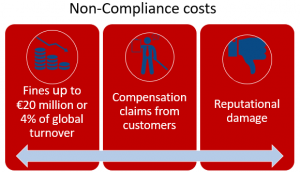 GDPR and Data Leakage Prevention
A groundbreaking regulation has been applied since 28th May 2018 in all EU member states aiming to strengthen data protection laws. The scope of General Protection Regulation (GDPR) is to better regulate data protection and enhance the rights of individuals providing control rights on how their personal information is collected and processed. Moreover, organisations will be obliged to comply with the regulation and be accountable for the data protection of their database. Failure to comply with the regulation is not an option for organisations due to the huge fines and penalties.
Data Leakage Prevention:
GDPR might be highly beneficial for the businesses since it will require higher levels of data management, security and leakage prevention measure that will reduce the high costs of lost data.
Known security vulnerabilities are the leading cause of exposure to data breaches and leakages.
Did you know that according to recent studies, over the last 24 months 85% of businesses had experienced some form of data loss? (Ponemon Institute LLC.)
Our offerings:
Bionic is your one-stop partner for your GDPR and DLP compliance. Backed up with well-trained team combining sales and engineers we commit to provide real value for this significant change in the field of data protection policies.
It is critical for all organisations, not only to comply with the regulations, but their ability to prove compliance. A comprehensive and professional framework will develop evidence supporting organisations in case of compliance claims.
Disconnection between data security and operations is a common issue before implementing a data prevention solution. Each business has to decide on the level of security, authorisations for each user, administration roles and database management.
Our expertise in the field can help you to breach this gap and create an environment which will combine data security and operational efficiency.
Additionally due to the GDPR, a significant opportunity rises for businesses of all sizes. Our solutions will positively increase your productivity in the workplace, reduce the unnecessary waste and provide a tool for employee appraisal.
Some of the tools that our offerings provide are:
Print control:
You will be able to monitor the amount and content printed by your employees. Since our offerings are self-learning, data protection officers are notified for any suspicious activity. With our support, we could configure your system to allow or deny the printing of certain types of documents, include keywords and volume controls.
An example could be to restrict employees from printing your clients list, sales reports and other sensitive data. Also, once the average printing volume for a period of time is exceeded, your systems administrator will be notified. This is a great saving since studies suggest at least a 32% waste due to printing irrelevant content in businesses with unregulated printing solutions. This adds up to a significant saving after a period of time.
Productivity monitoring:
Utilisation of resources:
Imagine paying for costly software for your employees which are actually utilised for an insignificant amount of time. Our solutions will enable you to evaluate whether the tools provided to your workforce are actually required. Imagine paying for an expensive licence when your employee only utilises it for a few hours per month returning a revenue lower than the actual investment.
After all, for the majority of businesses, their database is probably their highest valued assed. Therefore, compliance with GDPR creates an opportunity to protect this asset.
Time is running out and compliance is not a choice!